Peter Stuyvesant
Edit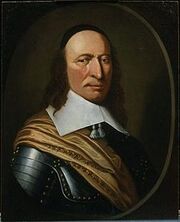 Peter was the god of things were better in the old days. Peter always tell Nicholas stories about what it was like before.How better it was when he was ruling
Early Life before being a God
Edit
Peter served as the last Dutch Director-General of the colony of New Netherland from 1647 until it was ceded provisionally to the English in 1664, after which it was renamed New York. He was a major figure in the early history of New York City.
Stuyvesant's accomplishments as director-general included a great expansion for the settlement of New Amsterdam beyond the southern tip of Manhattan. Among the projects built by Stuyvesant's administration were the protective wall on Wall Street, the canal that became Broad Street, and Broadway.
Although conventionally referred to in English today as "Peter Stuyvesant", Stuyvesant's given name was actually "Pieter" or "Petrus"; "Peter" is not found in historical records.
Community content is available under
CC-BY-SA
unless otherwise noted.