"Feel safe?" Mrs. Parker was incredulous."If anyone should be worried about their safety, it's the Munsees. The Last Time they took their eyes off us, they ended up stuck between the same trees for a hundred years."
Dorothy Parker
Edit
Dorothy/ Dorthy Parker is the goddess of wit.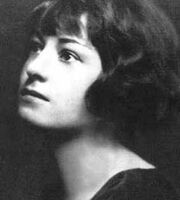 Dorothy was the best friend of Walt Whitman the god of optimism. Whitman trust her so much that he ate Dorothy's food without even hesitating it was later found out it was Typhoid Mary's dish. She was in the side of the Rattle Watch and will forever be royal to Manahatta
Early life before becoming a God
Edit
Dorothy Parker (August 22, 1893 – June 7, 1967) was an American poet and satirist, best known for her wit, wisecracks, and eye for 20th century urban foibles.
From a conflicted and unhappy childhood, Parker rose to acclaim, both for her literary output in such venues as The New Yorker and as a founding member of the Algonquin Round Table. Following the breakup of the circle, Parker traveled to Hollywood to pursue screenwriting. Her successes there, including two Academy Award nominations, were curtailed as her involvement in left-wing politics led to a place on the infamous Hollywood blacklist.
Parker went through three marriages (two to the same man) and survived several suicide attempts, but grew increasingly dependent on alcohol. Dismissive of her own talents, she deplored her reputation as a "wisecracker". Nevertheless, her literary output and reputation for her sharp wit have endured.
Community content is available under
CC-BY-SA
unless otherwise noted.